18 April 2023
Eye-catching lighting for the showroom of Flexfurn
For the redesign of their showroom, Flexfurn chose custom lighting from Multiline. The end result is a modern showroom with stylish luminaires. Light designer Evy explains how she had to juggle with different colors and ceiling heights for this project.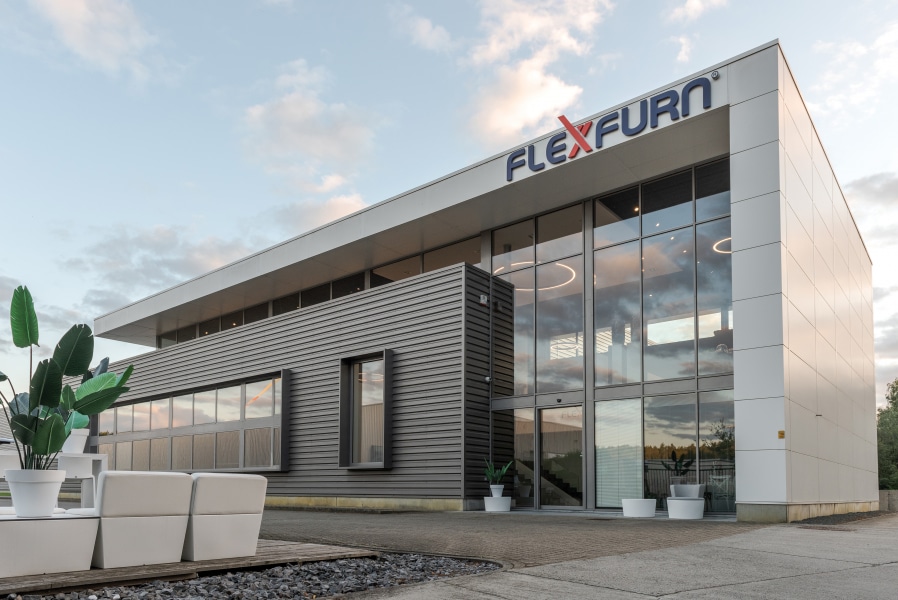 Flexfurn supplies foldable and stackable furniture for the event sector and the catering industry, among others. They proudly display these products in their showroom in Tessenderlo. "For a refreshing look of the showroom, we replaced old fluorescent and energy-saving light bulbs with LED profiles. The goal was to create a new, inviting interior and to apply an energy efficient concept." says Evy.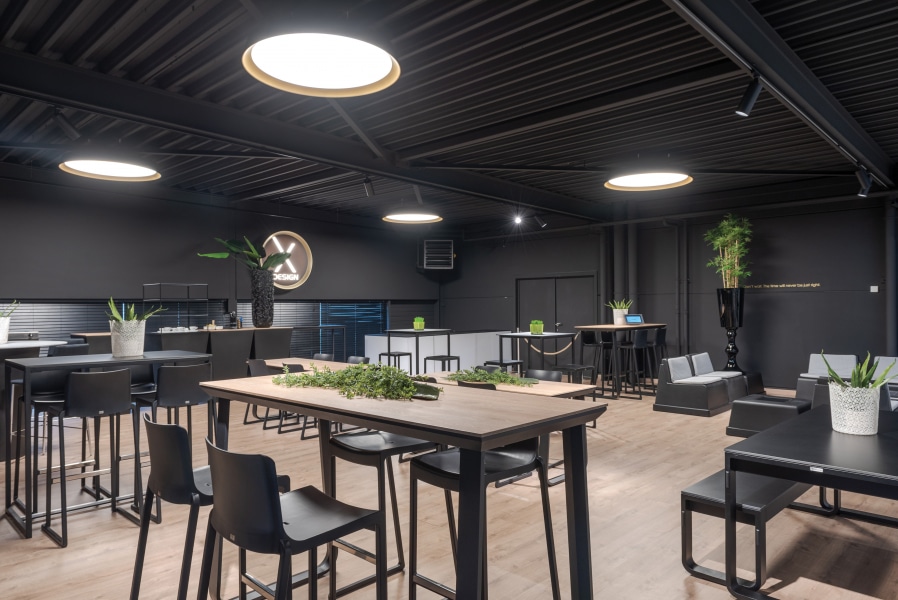 The right color rendering (CRI)
"In a showroom, display window, art gallery, hair salon, etc., it is important to provide the right lighting to objectively assess colors. In order to achieve this, we recommend a CRI (Color Rendering Index) greater than 90. This is the closest color rendering to natural daylight, which is perfect for objective color rendering. A standard fluorescent lamp has a CRI of 80, which is sufficient in an office or at home."
A challenging project
"The ceiling and certain walls are completely black, as are many other elements in the interior. The reflection from the floor, on the other hand, is white. These are important parameters to consider when calculating the light output. In addition, there is a vide in the showroom. Based on this, we determine the correct light intensity of the luminaires."
From technical to interior design advice
"For this project, we started with the lighting calculations. Based on these, we put together the lighting plan. This was followed by the quotations and technical sheets. Eventually a complete package is formed, which we present to the customer. We always use the calculations in order to propose products that are suitable for the project. If the customer already has a certain design in mind, we check whether this also fits the project from a technical point of view."
Anilo and Punto
"The circular luminaires, named Anilo, are custom-made. They are available in diameters from 600 to 6000 mm. The largest diameter in the showroom of Flexfurn is 3 meter. Luminaires of this size are not standard products and require a high level of customization. This is the main reason Flexfurn entrusted this lighting project to Multiline. To illuminate specific products and settings in the showroom, rails were provided on the ceiling. On these rails, we mounted clickable spotlights that can be used in a flexible way. All luminaires can also be digitally controlled via a DALI controller.
This allows the user not only to create very specific lighting effects, but also to program a light show in which each setting is individually put in the spotlight. All this is possible by means of programming via the DALI system."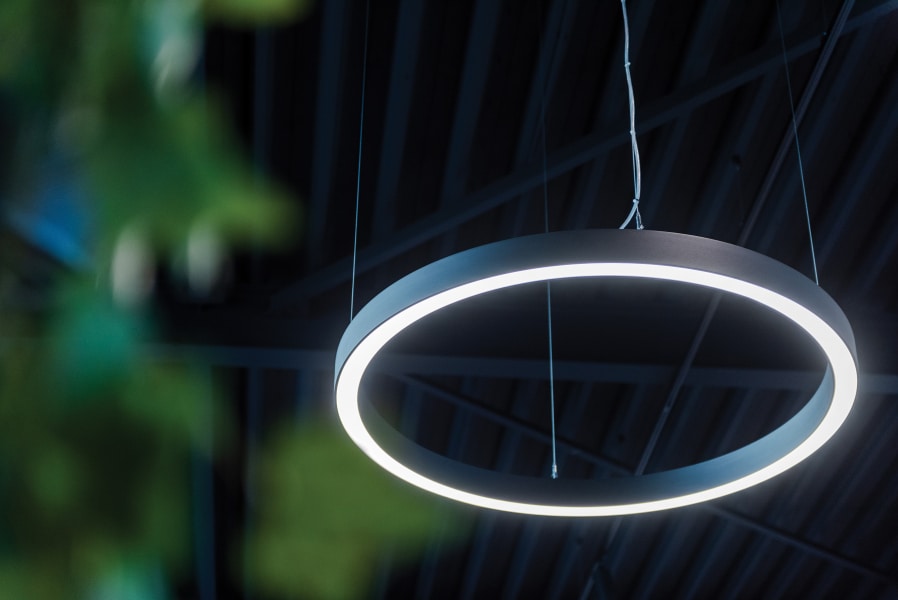 "Multiline's advice transformed our showroom into an experience space"
James Verbeeck, owner of Flexfurn, looks back with satisfaction on the cooperation with Multiline: ''Flexfurn deliberately chose Multiline as a local partner, mainly because we support the 'Made in Belgium' concept. Multiline provided us with very high quality lighting."
"The customization and excellent advice transformed our showroom into an 'experience space', giving our customers a great source of inspiration. As a manufacturer of event, hospitality and project furniture, we no longer want to sell our customers products, but an intense experience. This goal, partly thanks to Multiline's excellent support and expertise, has been perfectly achieved. Multiline is simply the right partner if you are aiming for a wow effect.''
Are you looking for lighting for your showroom?
Multiline has experience with companies in various retail sectors, from hair salons to car showrooms. We have a wide range of modern luminaires and a wide variety of options for customization.
Contact us to learn about the possibilities for your showroom.
Looking for inspiration?
Do you have questions? Would you like more information about our products?
Contact us