3 February 2021
Lighting @ office Abetec: unique harmony between aesthetics and technology
The right lighting in an office is crucial. It ensures a uniform light distribution, is easy to operate and fits seamlessly into any room. And if possible, it should also be top notch on the aesthetic side. Engineering office Abetec knows this better than anyone and is always looking for the perfect harmony between technology and aesthetics. They entrusted this task to us for the luminaires in their brand new office.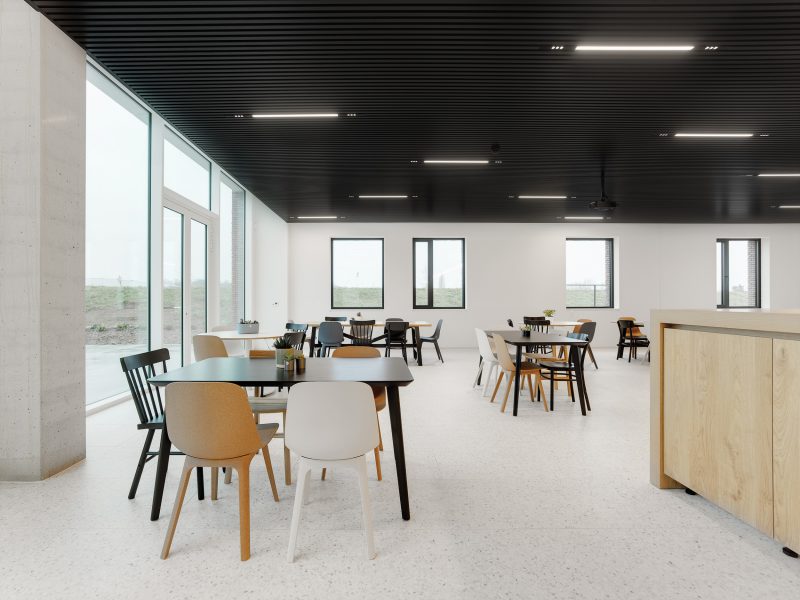 The requirements of Abetec
As a company specialized in engineering and architecture, Abetec wanted to be able to show off their building. That's why every detail had to be right. Both aesthetically and technically as well as practically.
They had some specific requirements for their office lighting:
A uniform light distribution in most rooms, especially in their offices. Achieving a UGR (Unified Glare Rating) under 19 was essential.
The luminaires had to be connected to the general alarm system.
Some spaces are used for different purposes. They required the option to adapt the lighting to the different activities
The result
The entrance
A green moss wall is the eye-catcher of the entrance hall. To accentuate this, we placed spotlights aimed at the wall. We provided a track rail with adapter and special brackets that are seamlessly integrated into the SAPP ceiling. The spotlights were placed onto this rail.
The refectory / seminar room
Abetec has a large lunch room in their new building that is also used for seminars, among other things. Rekta 30 SAPP light lines with a PMMA cover as well as spotlights were installed here. Both types of luminaires can be switched separately. During lunch the light lines will usually be on, during a presentation or an event in the evening the spots provide the right atmosphere.
The offices
In the office spaces in particular, a uniform light distribution and minimal glare are crucial. A big contrast between bright light and dark corners is uncomfortable and should be avoided. That is why we integrated our Rekta 30 SAPP light lines with a VDT louvre in the ceiling and placed them in the right places in every room. The result is an optimal visual comfort.
The corridors
The lighting in the corridors is a fine example of customized luminaires. Very long, continuous light lines follow the walls of the entire hallway. We used corner profiles and assembled fixtures of up to 5 meters in 1 piece. As you can see in the images, our lighting was placed near a stretch metal ceiling. A conscious choice, because as an engineering office Abetec also wants to show the techniques in their building.
A challenge: when the lighting systems were installed, it turned out that the walls were not completely straight over their whole length, while this was indeed the case with our light lines. Our own technicians provided support on site and solved the problem with spacers.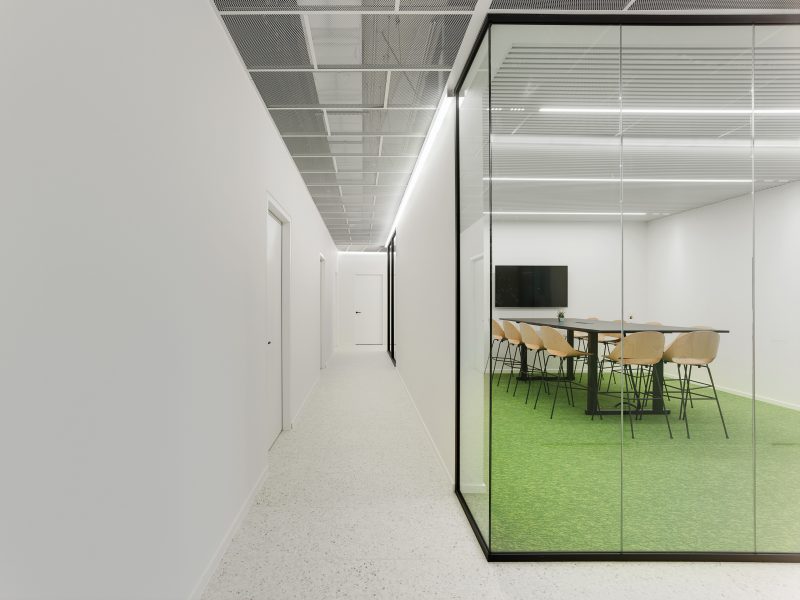 The meeting rooms
We equipped the meeting rooms with light lines and spotlights. These spots are switched on by default and are especially convenient during a presentation. This way there is not too much light in the room and everyone can see the screen well.
If the room has to be used in order to check plans, then the light lines are suitable for general lighting. Both types of lighting can be switched separately.
Discover our lighting for your office
Are you looking for luminaires that are aesthetically pleasing, technically correct and easy to install? Discover how we develop the perfect lighting to meet the requirements of any type of room. Get in touch with us for more information and let Multiline enlighten you.
Used products
Information
Location (city): Zele, Belgium
Engineering office: Abetec
Photographer: Bart Gosselin
Looking for inspiration?
Do you have questions? Would you like more information about our products?
Contact us