9 March 2023
Product designer Stan Maes shares his vision on architectural lighting
For several years, product designer Stan Maes and Multiline have worked together to develop innovative designs for architectural lighting. Thanks to this smooth cooperation, the luminaires Biko, Nio, Grip and Plato have been created. Stan Maes takes us through the process from idea to design.
"After the first meeting with Multiline, there was an immediate click. As a result, we were on the same wavelength from the outset. During the first collaboration, I got a nearly free playing field. I knew that Multiline makes LED lighting in extrusion profiles, but beyond that I had all the creative freedom. As a product designer, I consider it my job to open up the range of possibilities as much as possible."
Occasionally coloring outside the lines
"From time to time, it is interesting to color outside the lines and look beyond the content of a briefing. From this perspective, Biko and Nio were born. Thanks to the creative freedom, we were able to launch two new, original designs on the market. Shortly afterwards, Grip and Plato also followed."
"Of course, I cannot go too wild with this freedom. With each request, I dive deeper into the identity and history of the client. The intention is to be evolutionary, not revolutionary. That way, every new product is a useful addition to the existing range of the client."
Synergy with other sectors
"To this day, the cooperation with Multiline goes very smoothly. We know what to expect from each other, which leads to an open collaboration. With other customers, I sometimes take on a much larger part of the process. For Multiline, I mainly supply ideas, while they develop the technical features themselves. They have an internal engineering department with the required know-how and experience. If adjustments have to be made, we meet up again and respectfully listen to each other's input. The most important thing about my role in this story is the fresh, creative perspective."
"In addition to the above-mentioned luminaires for Multline, I have previously also designed decorative and public lighting, but my clients generally come from very diverse industries. From charging stations to sports products and medical applications. This synergy I have with other sectors makes my input more interesting for Multiline."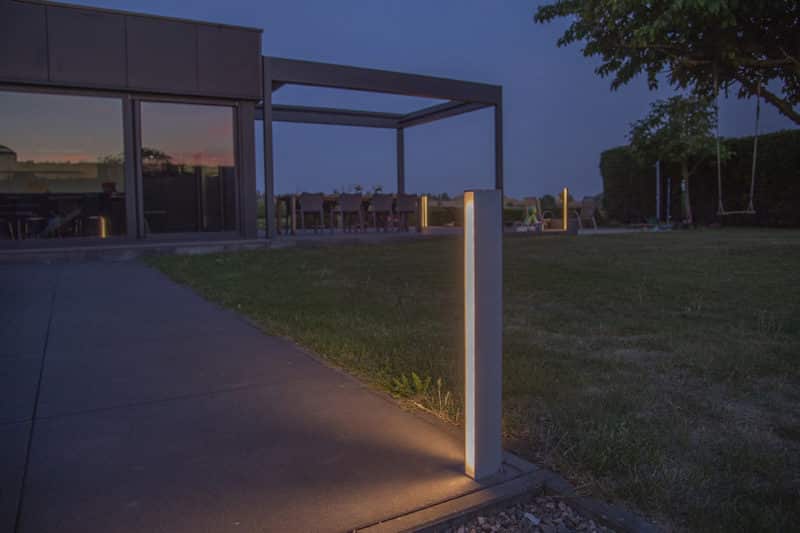 "Nio is in my garden. I enjoy looking at it every day"
"I find it useful to showcase my designs in my own home, so to speak. When I have visitors, I like to give them an explanation in the hope that my clients can benefit from it. This way, I enjoy making an additional contribution. Nio, for example, can be found in my garden. Not coincidentally, because we won a European Product Design Award with Nio. A noteworthy quality label, both for the manufacturer and designer. I always enjoy looking at the luminaire. During the day without light as well as in the evening when it lights up my terrace."
Working together to create the most circular light source
Multiline has been researching the role of circularity in the development of its luminaires for several years. The lessons this research has taught them, are already being implemented today. For example, retrofitting older luminaires to improve energy performance, the use of extrusion profiles made from recycled aluminium and a product range containing standardized components in line with the Zhaga standard.
Stan sees several opportunities through an exchange of experience with circularity: "I have recently become a certified Circular Ambassador, recognized by Circular Flanders. Therefore, an interesting future collaboration would be to design a fully circular luminaire. I am thinking of the 3 basic principles of a circular economy:
Reuse: reuse as many components and raw materials as possible.
Rethink: approach the economy fundamentally differently. For example, develop a lease model for lighting.
Repair: repair luminaires instead of replacing them. If we examine which component breaks down the most, 90% of the luminaires remain in use longer.
"Multiline is already applying several of these principles. That is why I would like to explore other ways of thinking together. That way we can promote circularity even more in the architectural lighting sector."
Are you looking for original architectural lighting?
As a trendsetter in the world of architectural lighting, our luminaires are developed to the finest detail in terms of both design and technology. We strive to achieve this very same objective for every project. Do you want to know which products are a perfect match for your project?
Doe inspiratie op via onze website of neem contact op voor een voorstel op maat.
Browse our website for more inspiration or contact us for a proposal that fits all your needs.
Looking for inspiration?
Do you have questions? Would you like more information about our products?
Contact us