7 September 2023
Tom Vandemoortele (lighting installer): "Multiline's in-house production is phenomenal"
The installer plays a major role in the success of a lighting project. That's why Multiline works closely with installers all over Belgium, including the family-run company Elektriciteit Vandemoortele in Izegem. Tom Vandemoortele, co-manager of the installation company, explains the importance of lighting in their projects.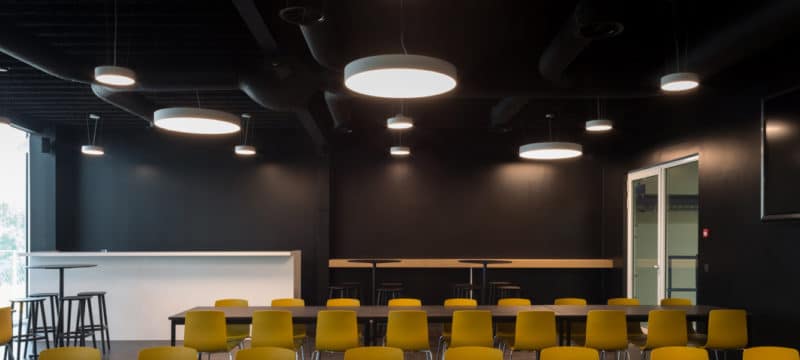 Elektriciteit Vandemoortele offers a wide range of electrical services, including general electricity, lighting, sign building, KNX, fire detection, intrusion detection, data cabling, fiber optics, access control and camera surveillance. "Lighting still remains an important aspect of our business, despite our growth in other areas." Tom emphasizes.
"My brother and I are both business managers in the company that our father founded in 1982. We mainly do projects in the tertiary sector, such as offices, schools, care centers, service centers and warehouses, but we also cover small industries. We do partly public tenders and partly private projects. For public tenders, we often collaborate with engineering firms. In private projects, our clients are more involved and usually more inclined to consider the lighting solutions we propose."
A collaboration with history
"My father came into contact with Multiline quite early in the 1980s. At that time, the father of Klaus Rahne (business manager Mutiline) was leading the company. Today the next generations are in charge in both companies and the cooperation is still as smooth as ever. We know very well what we have in common." Tom states.
"I appreciate Multiline's value for money and good service. The flexibility of their linear lighting is superb. Communication in the quotation phase is short, precise and direct, allowing us to move quickly. When orders are placed, we receive clear-cut drawings, which reduces the chance of errors. Transport, delivery and aftersales-service are also always correct. Multiline is widely known among engineering firms for its Belgian quality. With their products, we know that for the first 10 years after installation we don't have to go on site again to solve problems."
The right lighting in the right place
"I advise new customers to choose the right lighting depending on the space and the respective situation, paying attention to light distribution, control and comfort. I recommend including control systems in preparation for the future. Retrofit of LED modules and drivers should be possible within 15 to 20 years. Lighting is usually one of the last steps in the planning, but it is so important for comfort. So don't take it lightly. You have many possibilities for a small additional cost."
"Multiline's in-house production is phenomenal"
"The big difference between other manufacturers and Multiline is their strong and diverse range of light lines and in-house production. A 'special system' is no problem for Multiline. I am especially a fan of Multiline's Rekta product line because of its beautiful, functional and easy assembly. It's very suitable for schools and offices."
"At Multiline, they think very carefully about how an installer can place their lighting in the most efficient way. When we have to deal with difficult conditions on site, we can ask them for adjustments to make the work of our electricians easier. An important added value in our cooperation. We think that's phenomenal."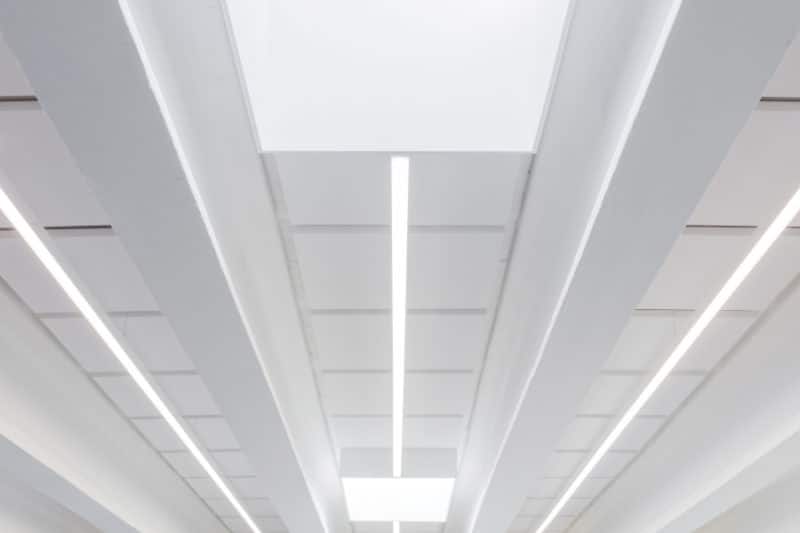 "I expect lighting to become even smarter in the future"
"When it comes to lighting, we look at the balance between aesthetics and functionality. Since the new legislation for fire safety and detection, we unfortunately see that there is sometimes little budget left for lighting, but KNX control in combination with the right lighting is extremely important in my opinion."
Tom is excited about the possibilities of smart lighting, control systems and energy saving: "I expect lighting to become even smarter in the future, with tunable white lighting becoming standard in offices, schools and care centers, among other things. The evolution of the lighting industry is huge in all areas, especially with the evolution of LED lighting and the development of new forms and lighting control solutions. I believe smart drivers and sensors will learn users' habits and thus automatically adjust the light. A form of artificial intelligence. Multiline always helps us with finding the optimal lighting solution and can understand the needs of our customers very well."
Looking for inspiration?
Do you have questions? Would you like more information about our products?
Contact us