15 October 2021
An aesthetic integration of emergency lighting into your office interior? We make it possible!
When you think about emergency lighting, the first thing that comes to mind are the prominent devices along escape routes. Unfortunately, these devices often interfere with the smooth interior concept. Fortunately, you can also mark the escape route with your existing lighting, which is a much nicer solution for your interior design.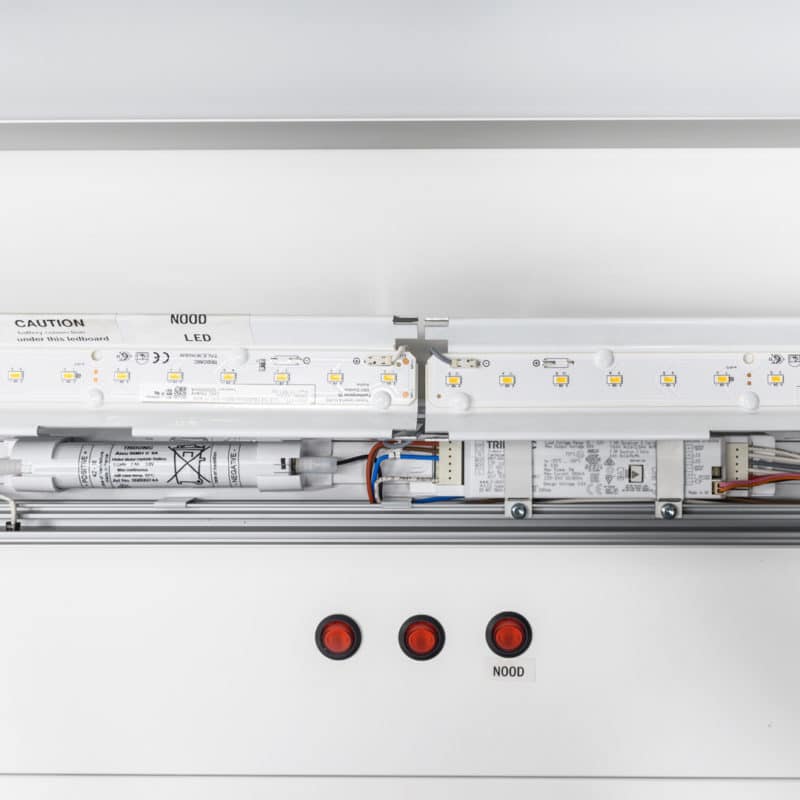 When your normal lighting fails, emergency lighting ensures that people can safely leave the building. These emergency devices have an independent power supply and thus serve as a back-up for your normal lighting. With our luminaires, it is possible to integrate them in an aesthetic way as an addition to the emergency escape lighting in a building.
Emergency escape lighting is a complex concept
The purpose of emergency escape lighting is simple: to evacuate all the people in a building safely. The term includes escape route lighting, escape route signs, anti-panic lighting and lighting for workstations with increased risk. Our lighting systems are mainly suitable for the illumination of escape routes. We make a distinction between different situations: general purpose emergency lighting (minimum 0.5 lux), lighting for the escape route itself (minimum 1 lux) and areas with increased risk such as stairs, doors, places where the escape route direction changes and the crossing of corridors (minimum 5 lux).
The integration of emergency lighting into existing fixtures
The LED modules in lighting systems of Multiline can serve as emergency lighting. This can be a 280 or 560 mm module, with a minimum luminous flux of 350 lumen. We always make a lighting study to determine the amount of light needed in an emergency situation. Thanks to the integrated emergency modules, we can equip any room with emergency lighting: from small toilet areas to large meeting rooms. This is how we ensure that your interior and lighting concept remain a smooth aesthetic whole.
Centralised vs. Decentralised
Customers have the choice between decentralised and centralised emergency lighting. In decentralised emergency lighting, the luminaires have an autonomous emergency unit with a built-in battery, which is what we use in most of our projects. The advantage of decentralised emergency lighting is that these luminaires operate independently because they all have their own power source. In addition, a defect can be easily resolved as only one battery needs to be replaced. When installing emergency lighting, we always recommend to connect the battery once the complete system is put into permanent operation. Otherwise, there is a risk that the battery will run out quickly.
On the other hand, customers can also opt for centralised emergency lighting. In this case, the luminaires do not have their own power source, but are all or partly powered from a central point in the building. The disadvantage, however, is that this type of emergency lighting is completely dependent on one battery.
All drivers used in our light lines are suitable for emergency lighting. DALI drivers can also be set up so that the lighting switches on at a certain percentage in an emergency situation (after detection of direct current). Emergency units also exist in a DALI version which means that the times of e.g. self-tests can be programmed and the status of the battery can be read out.
Interested in our expertise? Are you looking for linear lighting that meets the latest standards? Then feel free to contact us, we will be happy to help you!
Looking for inspiration?
Do you have questions? Would you like more information about our products?
Contact us