1 December 2022
Dries Dethier: "Multiline's luminaires were exactly what we were looking for"
The building companions at Dethier have seen many construction sites, but working on their own headquarters was certainly a unique occasion. The result is a state-of-the-art building, with luminaires from Multiline. Dries Dethier, lead project manager and director in the construction company, takes a look at the lighting in their new office building.
"As lead project manager, my job is to ensure a good cooperation between building owners, architects, engineers, suppliers and subcontractors. All these parties have to interact in order to complete a construction project smoothly and efficiently. In this role, I also took charge of our own construction site. Being in the shoes of both builder and construction partner was a new experience. We are very pleased that our many hours of planning and hard work led to a great result. It will be our pleasure to work here in the coming decades." says Dries enthusiastically.
Discreet and elegant lighting for Dethier
"The architect normally handles the lighting, but for our own building we wanted to hold the reins together with our architect. Our head office has the style of a modern villa. For the lighting, we opted for discretion and elegance with a sleek finish. We certainly achieved this objective thanks to Multiline. The light is distributed evenly across the room, leading to a high light comfort and thus a pleasant workplace."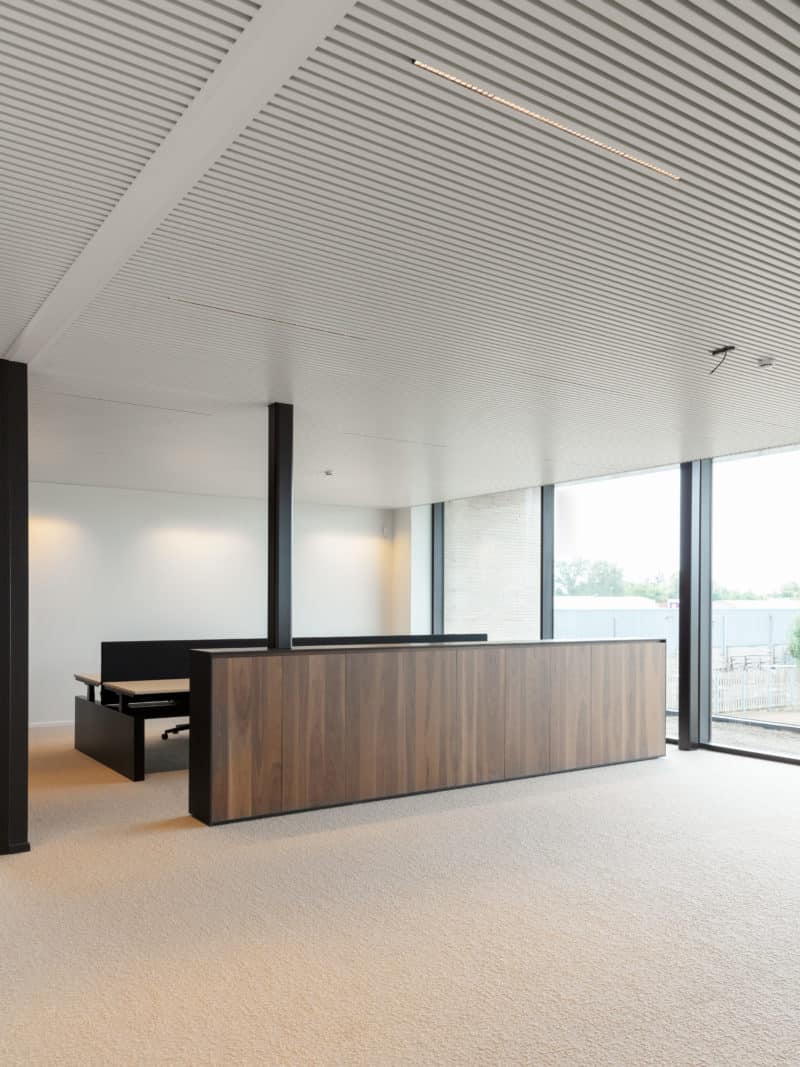 Flexible planning
"We made quite a few different versions of the design before the plan was completely on point. Fortunately, we had direct contact with Multiline, because it was crucial to make fast decisions in terms of the lighting. Multiline was a very flexible partner and made several lighting studies in order to guarantee the desired LUX values and standards."
"Even the emergency lighting fits the bill"
"We were keen to integrate our office lighting into the climate ceilings. Through the supplier of the climate ceilings, Interalu, we first came into contact with Multiline. Multiline actually designs luminaires specifically for these SAPP ceilings. There are several manufacturers who offer such products, but Multiline provided an extra advantage that made the choice easy: the full integration of the emergency lighting with emergency battery. The standard luminaires and the emergency lighting have the same design and finish, making them indistinguishable from each other."
Are you looking for lighting that fits your vision perfectly? Elegant light lines that match the overall design of your project? Multiline has 40 years of experience in developing indoor and outdoor lighting, including customized lighting.
Get in touch with us and we will be happy to help you.
Looking for inspiration?
Do you have questions? Would you like more information about our products?
Contact us