10 October 2022
High light comfort in the new office building of Dethier
As a construction partner and general contractor, Dethier is setting the tone with its brand new headquarters in Alken. A state of the art building now stands on the site of the company managers' parental home. The use of space played a central role in this project. The aim was to create spacious workplaces with the possibility of expansion and a high-quality finish. The lighting also had to meet these standards.
After the positive response to our non-binding proposal for a customized lighting plan, we got to work. Evy, our lighting designer, made a light study for the offices and sanitary facilities in the new building. She paid close attention to lux values, uniformity and reflection values. An important detail: the walls of the offices are covered with wood. Evy made sure to take this into account for her lighting calculations.
Healthy office environment with natural light experience
De plafonds van de kantoorruimten bestaan uit SAPP-klimaatplafonds van Interalu. Multiline heeft twee lichtarmaturen ontworpen op maat van deze SAPP-klimaatplafonds: de Rekta 20 die tussen de lamellen geplaatst wordt, en de Rekta 30 die een gedeelte van een lamel van het klimaatplafond vervangt. Dethier koos voor de de discrete Rekta 20 die volledig opgaat in het plafond. Dit creëert een optimaal lichteffect, zonder zichtbare armaturen. Een bijkomend voordeel is dat men meerdere armaturen kan aansluiten op één driver.
The ceilings of the offices consist of SAPP climate ceilings from Interalu. Multiline designed two different luminaires that fit perfectly in these SAPP climate ceilings: the Rekta 20, which is placed between the slats, and the Rekta 30, which replaces part of a slat. Dethier chose the discreet Rekta 20 that completely blends into the ceiling. This creates an optimal lighting effect, with no visible luminaires. An additional advantage is that you can connect several luminaires to one driver.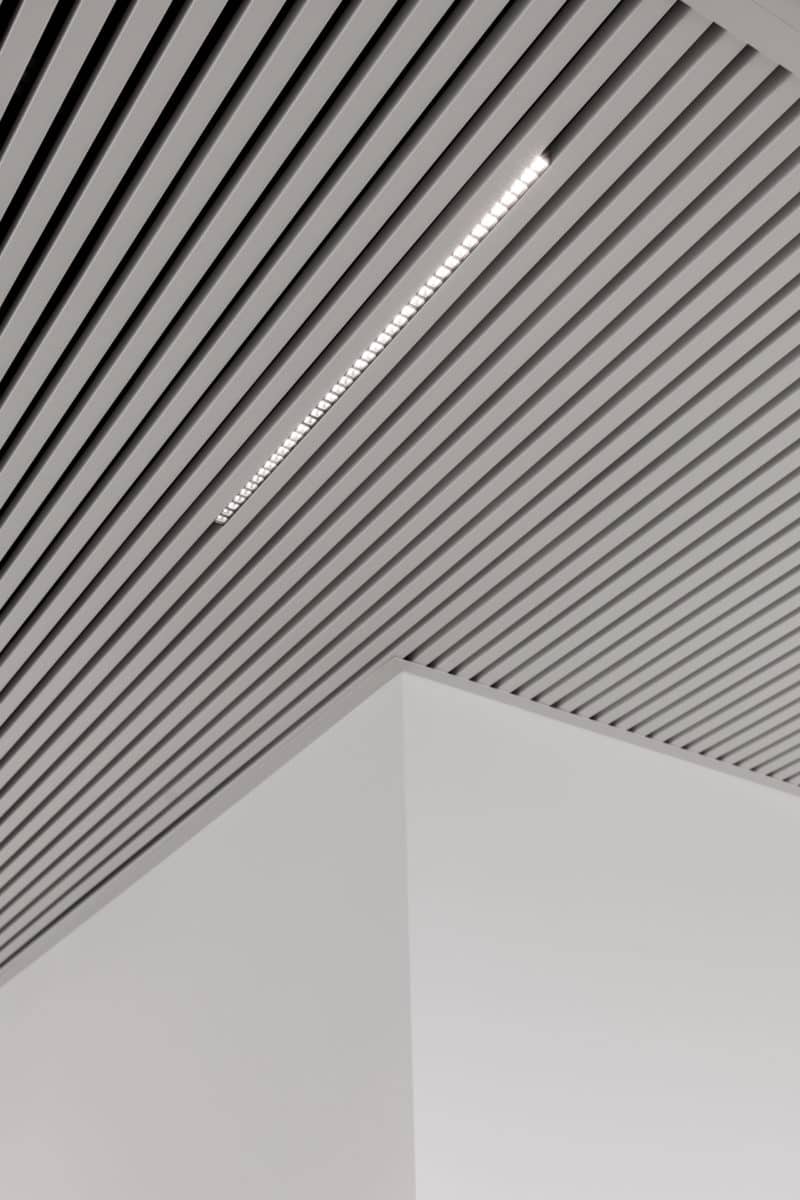 Subtle lighting with high light comfort
The Rekta 20 is equipped with a louvre that limits the light beam angle. This results in bright and functional light at your workplace without any glare. With a UGR<19 (Unified Glare Rating), the Rekta 20 is perfectly suited for offices in accordance with standard EN 12464-1.
Do you need more light comfort in your office?
For an optimal work environment, it is wise to pay enough attention to the lighting in the room. By means of a light study, a light architect ensures the highest possible level of light comfort. Multiline has a wide and stylish range of luminaires, combined with specialized and experienced light architects. Contact us to discuss your options.
Looking for inspiration?
Do you have questions? Would you like more information about our products?
Contact us