7 August 2022
Aesthetic lighting for 'Acasus', the West Flemish knowledge center for sustainable living
Aesthetic lighting with focus on architecture and technology, that is what Multiline contributed to the knowledge center 'Acasus' in Veurne. A complete lighting plan and study convinced the client and led to the delivery of the luminaires. The result is an inspiring lighting project.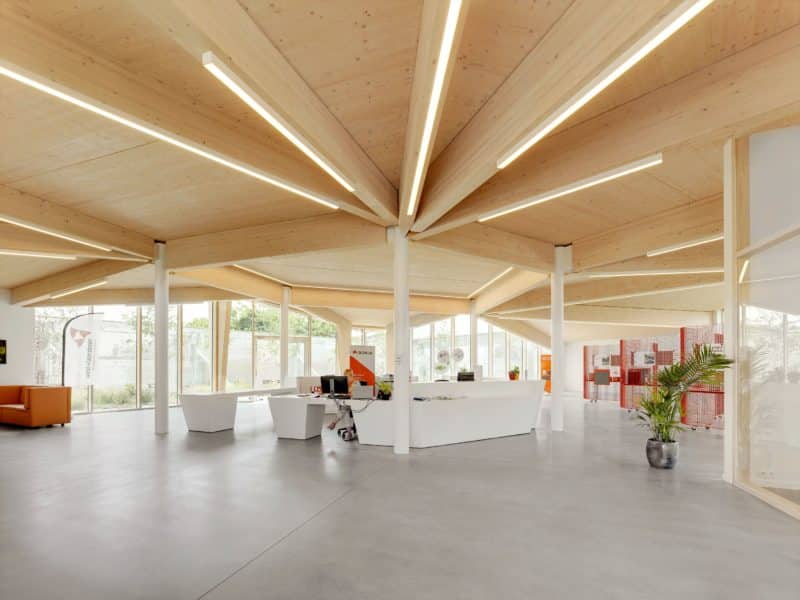 Acasus is an inspiration and knowledge center for sustainable living, building and renovation in West Flanders. For a center that values sustainability and innovation, lighting also plays a major role. The Ghent-based architects and engineers from DENC-studio had a very clear vision: to let the room speak through aesthetic lighting.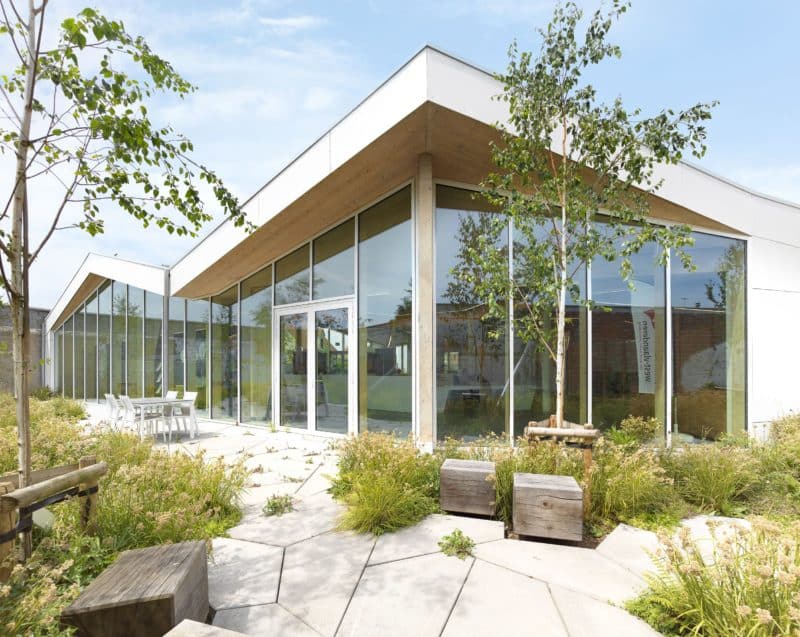 An impressive lighting plan
Lighting and architecture should complement each other. That objective was certainly achieved with this project, thanks to a good collaboration between the client and our light architect: Evy.
"This project started with a customized lighting plan. It contains all the necessary light calculations, in function of reflection values of the walls, furniture, furnishings, colors, etc. Based on that lighting plan, we determine the light color, luminaires and light intensity. Our goal is to create a perfect balance between technology and aesthetics."
Special construction of the roof
The special roof construction of Acasus consists of several beams at different angles with different dimensions. At the heart is a pentagonal construction above the front desk. There is also a height difference in the roof construction. In fact, the ceiling goes from very low to very high in the ridge.
To reinforce this concept, the light profiles also have different lengths. As a result, the lighting contributes to the dynamic interior, with due attention to light output.
Combination of surface-mounted and recessed luminaires
One part of the building is new, while another part is renovated. In the renovated area, the luminaires are recessed in order to blend into the space. In the new area, the luminaires are surface-mounted as a means to enhance the concept of the ceiling. This adds an extra dynamic touch to the room.
Both the recessed and surface-mounted luminaires are from the Rekta 65×65 series. In fact, almost every Multiline profile has a pendant, surface-mounted and recessed version. The same profiles are thus available in multiple versions, creating a coherent whole.
Looking for inspiration?
Do you have questions? Would you like more information about our products?
Contact us