2 May 2022
New product: Snake. Put your own spin on this luminaire.
A monkey bar. A solution for the corners in a stairwell. A vintage nod to the fluorescent lamps of old. The creative eye-catcher. Meet the Snake. "Everyone sees something different in the Snake. We are looking forward to discover how architects and lighting designers will use this new product in their designs." Managing Director Klaus Rahne and Quality & Development manager Stijn Pittomvils discuss the possibilities.
With its round shape, the Snake can be seen as a change in our usual style. Klaus: "Multiline stands for architectural design and linear lighting. For this new design we went outside our comfort zone (laughs). Thanks to designer Serge Cornelissen. With the Snake, we want to give architects and lighting designers a luminaire on which they can unleash all their creative ideas."
Shape the Snake
A profile with a diameter of 60 millimetre contains the LED boards and technical components. An extension tube with a diameter of 25 millimetre serves as the coupling element for the light profiles. Stijn: "As with most of our luminaires, the electronic components such as drivers, LED boards and sensors are integrated. We had to push our limits in order to get all the components into the limited space."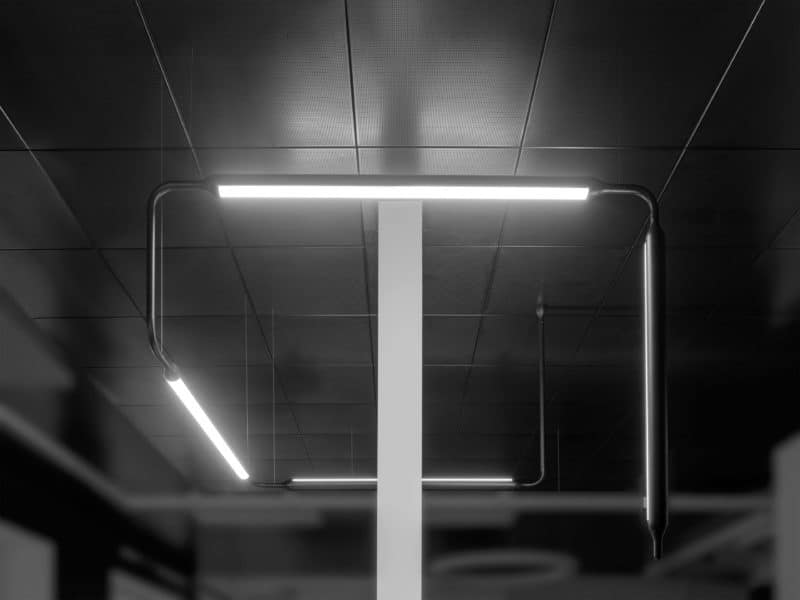 The combination of the 2 D60 and D25 profiles is the only feature that can't be changed.
"Nearly everything about the Snake can be customised. You can play with the length of the light profiles and the extension tubes. Everything is possible in terms of colour. You can even choose to work with different colours: the coupling elements in one colour, the tubes in another. Or even each individual tube a different colour."
Twist and turn: angles and light emission
You can also twist the Snake. Literally. Stijn: "Thanks to the corner elements,  we can play with the orientation of the profiles. The design can be adapted to the wishes of the client. A monkey bar, for example. A cube of light. Everything is possible."
That was the twist. And now for the turn: the direction of the light emission. Each light profile can be rotated 360°. This way, you can switch between direct and indirect light."
Creative solution for stairwells
Klaus: "This is one of our most creative luminaires. I expect that we will see these luminaires in the most diverse projects and spaces."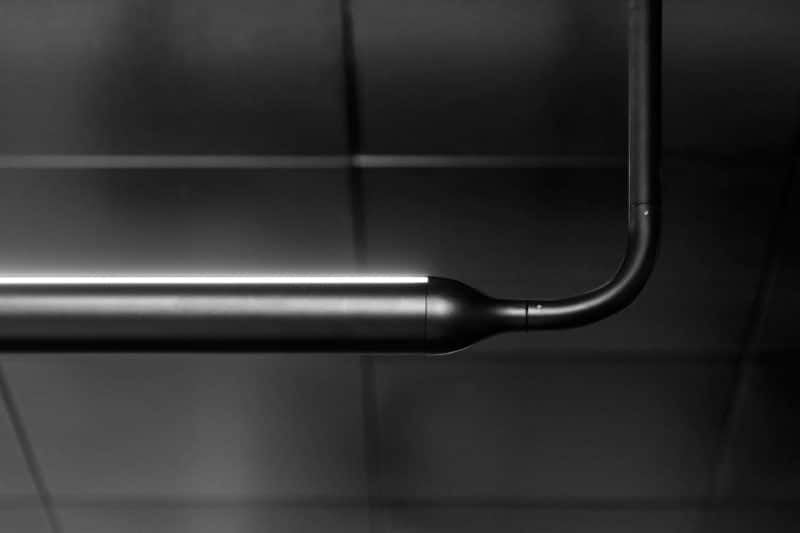 "But however playful the product may look, it's more than just aesthetics. The Snake also offers a solution to a typical technical challenge in buildings. The stairwell. A space with many corners and edges. It is not a given for installers to get everything right. And it often poses a challenge to provide lighting that transcends its purely functional use in this situation. The Snake is an ideal solution because this luminaire is developed to fit into corners. Even the most bizarre shapes."
Looking for inspiration?
Do you have questions? Would you like more information about our products?
Contact us