5 May 2021
Powder coating lighting fixtures: we do it in-house
Flexibility and customization are two factors that determine the success of Multiline. In order to fulfil the demands of our customers as quickly as possible, we powder coat our lighting fixtures in our own paint shop. Hans Kassenaar explains the painting process and what the biggest advantages are of our powder coating.
Hans: "Our paint shop has been a valuable asset at Multiline for a long time now. Thanks to our many years of experience, we know how important each step in the production process is for a high-quality end result. Keeping our production process fully in our own hands is the greatest guarantee that a product will perfectly meet our requirements and those of our customers. And it also puts us in complete control of the speed of our general production processes."
Why do we use powder coating for lighting profiles?
"We always use a powder coating for the aluminium parts of our luminaires. The reason being that powder coating is more temperature-resistant than wet coating, which is important as the electrical components in our luminaires produce some heat."
"As we use a muffle oven to melt the coating, the result is an extremely strong powder coating, which performs very well in terms of scratch resistance."
"Another difference between wet and powder coating: a solvent is often used for wet coating. This agent acts as a 'carrier' of the paint. When a product is wet painted, it must be given some time to get rid of that solvent afterwards, which also implies the emission of solvents."
"Such a solvent is not used for powder coating, which is more environmentally friendly than wet coating. It is also safer for the operator, as he is not exposed to the solvents."
"Another advantage of powder coating is the fact that powder is recyclable. We collect all the powder that is not sprayed on the profile and reuse it afterwards. The result: we use fewer raw materials, achieve a higher efficiency and have less costs."
Light fixtures in every colour
"We can powder coat the aluminium parts of our luminaires in any RAL colour, without our customers having to pay a significant extra charge. We have a stock of more than 200 RAL colours, I can honestly say that not many companies offer that same service."
"Moreover, we are not limited to just RAL colours. We also look at what is possible for our customer outside of that range. Naturally, this is always done in consultation with the customer."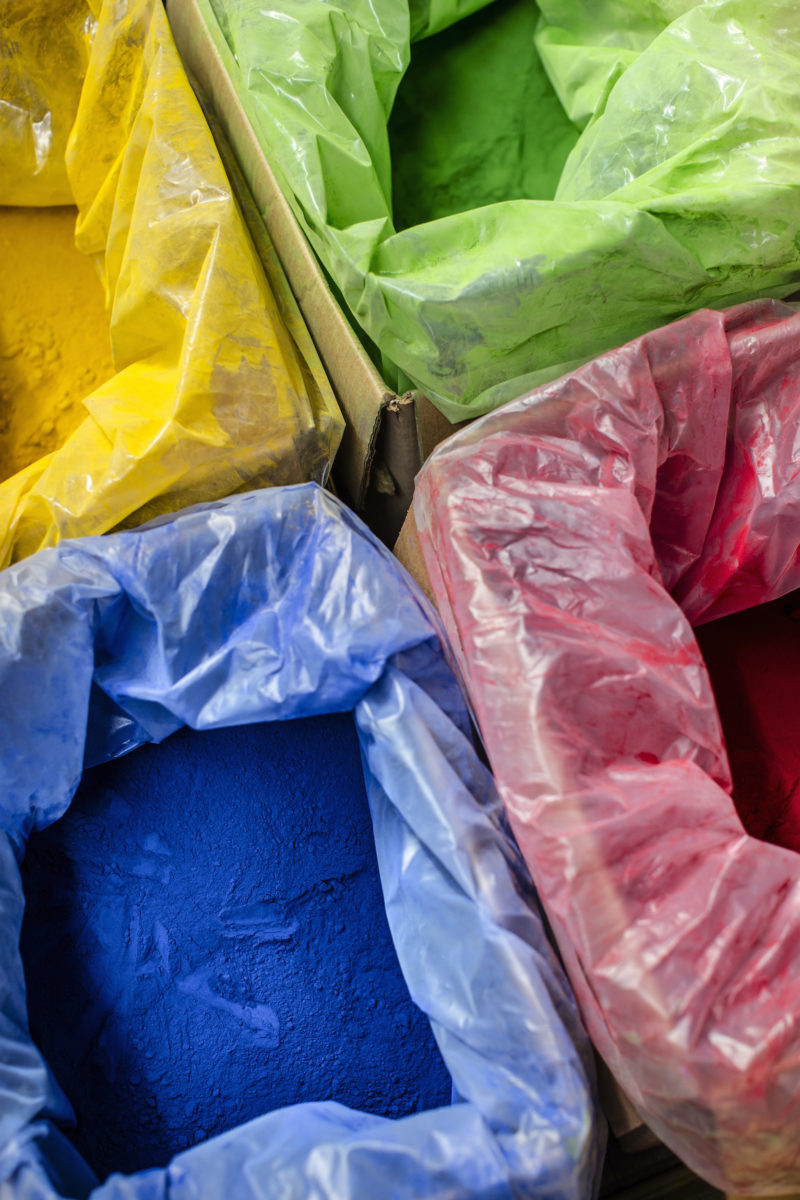 "In addition to the colour, our customer also always has the choice between a glossy, matt or textured powder coating."
The process: from pre-treatment to curing
"Everything starts with an exhaustive  pre-treatment. The pre-treatment consists of a number of fixed steps in which the aluminium parts are thoroughly cleaned and prepared. A good pre-treatment process removes all impurities from the aluminium and ensures good adhesion and increased corrosion resistance of the end product."
"The powder coating itself is done with a gun that allows the powder particles to adhere to the aluminium with electrostatic force. The aluminium parts are then placed in an oven (+/- 200 °C), where the powder coating first melts and then hardens."
"Powder coated parts only leave the paint shop after they have been subjected to a meticulous quality control. We also keep checking the components in between the different steps of the production process for scratches. This thorough quality control process, in combination with our expertise and high-quality production processes, helps guarantee the quality of our end products."
Want to know more about our paint shop? Feel free to contact us for more information.
Looking for inspiration?
Do you have questions? Would you like more information about our products?
Contact us