20 January 2021
Lighting for public areas: vandal-resistant Tube 90 at the BleiZo railway station
The Dutch Railways are working on a long-term renovation project, in which they renew all their outdated train stations. Our Dutch partner Lichtwerkt Nederland and their client LichtNL, responsible for the lighting design, approached us for the development of the lighting at Station BleiZo in Zoetermeer. They were looking for vandal-resistant and aesthetic outdoor fixtures for the railway station.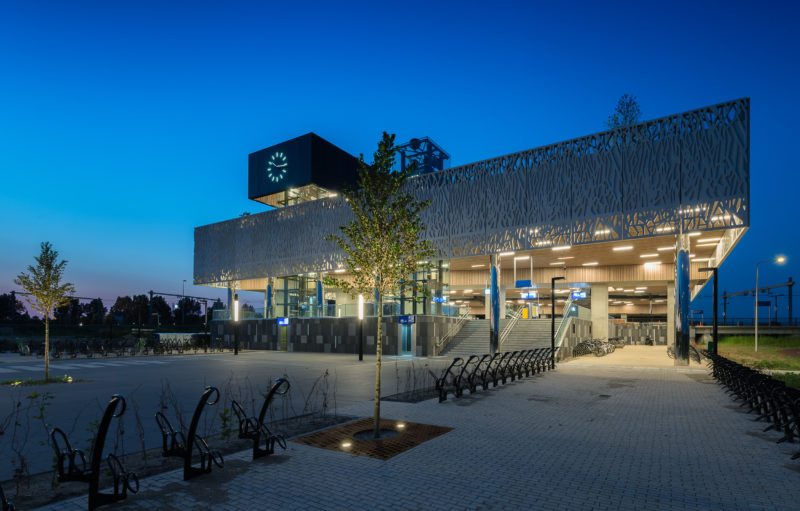 The station area is a public space where loads of people pass by and gather together. Moreover, it is also an open space, subject to weather conditions such as rain and wind.
Completely new product
When Lichtwerkt Nederland and LichtNL called in our expertise, it was clear what the luminaire should look like, but there was nothing in development yet. We decided to manufacture a completely new fixture in function of the project: the Tube 90. Following the BleiZo project, this lighting system has become a standard product in our range. The luminaire is available in a recessed and surface-mounted version for both ceilings and walls.
During development we opted for a co-extrusion profile. By extruding, we could work accurately to the millimeter. That was important for the project, where the luminaires had to fit perfectly into the wooden slats of the building. The luminaires are standard 90 millimeter wide and available in customized lengths of up to 6m.
We installed no less than 621 pieces of the Tube 90 in different lengths. The luminaires are installed in a criss-cross manner, at the request of the architect. We took into account the necessary lighting requirements, so that travelers have a clear view anywhere they are.
Not a single weak point
The profiles are made of a full polycarbonate housing. An Italian partner made the profiles with a minimal recessed depth. To ensure that there was a smooth transition between the slatted ceilings/walls and the luminaires, the fixtures were equipped with a nearly flat diffuser.
As the luminaire is made of a very strong material and all the components together form a whole, these fixtures are highly vandal-resistant. The luminaires have been recessed into the ceiling/wall to such an extent that even the end caps of the fixtures are not visible.
The correct lighting for your public area?
Are you also looking for weatherproof and vandal-resistant luminaires? Or customised lighting solutions for your projects? We would be happy to assist you as much as we can. Feel free to contact us for more information or an introduction.
Used products
– Tube 90
Information
Projectname: Station Bleizo
Location: Zoetermeer, Nederland
Architect: Team V architectuur
Engineering office: Arcadis
Dealer: LichtNL
Photographer: Nathalie Peters
Looking for inspiration?
Do you have questions? Would you like more information about our products?
Contact us