22 April 2021
Customized lighting design for Claerhout Communicatiehuis
A lighting study in which we were given free play resulted in unique luminaires that accentuate the modern building and interior of Claerhout Communicatiehuis, completely in line with their corporate identity. Not only a showcase for them, but also for us.
When advertising and communication agency Claerhout Communicatiehuis from Ghent started the construction of a new building, they asked us to work out a complete lighting proposal, taking into account the different functions of each room.
We were practically given free play, as we only had to consider the following requirements:
We were allowed to showcase our diverse range of products in the building, but they didn't want a cacophony of light fixtures.
Energy efficiency through daylight control and presence detection was a must.
It would also be a plus if the lighting could complement their corporate identity.
The end result
Round base
We decided to use round shapes as the basis for each room. That is why you will find ring- or disc-shaped luminaires in most event and office spaces.
In the offices we combined our signature light lines with luminaires that have round and red accents. In the open offices, for example, there is a standing luminaire near each desk, equipped with motion detection. If there is nobody at the desk for more than 15 minutes, the light goes out automatically.
The red accent of Claerhout
The Claerhout logo is a red sphere. We used the same color as an accent for our standing lamps. The round luminaires are the speciality of our partner Lightnet, of which we are the exclusive distributor in Belgium.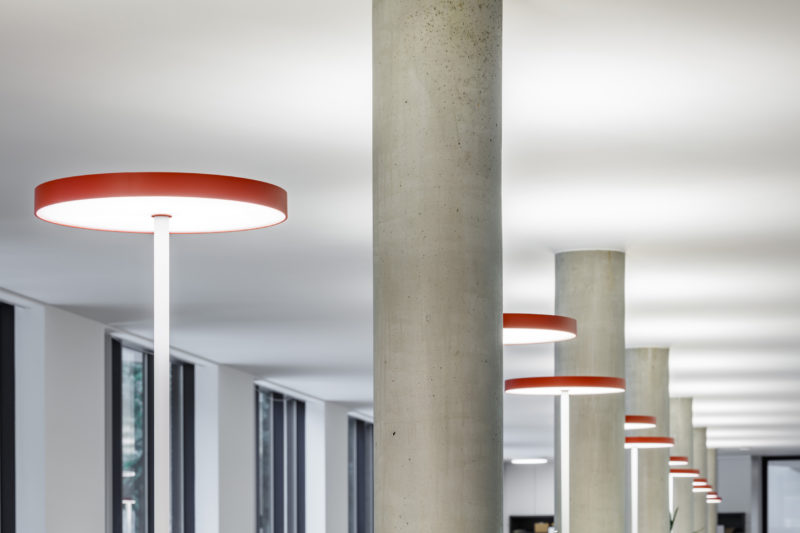 Matching inside and outside
We used the same type of round luminaires in the different rooms in order to ensure a nice consistency in the whole building. The same luminaire can even be found at the entrance, under the canopy of the building.
Parking garage with unique lighting
Whereas lighting in a parking garage is usually purely functional, Claerhout wanted to add an aesthetic touch to it. We placed waterproof light lines against the ceiling and the columns in the garage. The result is a playful arrangement that sufficiently illuminates the whole area.
Efficient light management
All luminaires are equipped with a DALI control system and the most modern technology. Dimmable luminaires form the basis for reducing the energy consumption of lighting. Daylight sensors and motion detectors pave the way for efficient light management. When there is a lot of daylight, the sensors ensure on the one hand that the lighting is automatically dimmed or switched off. On the other hand, the motion detectors switch off the luminaires if they no longer detect movement after a certain period of time. This dynamic lighting solution contributes significantly to the reduction of the energy cost.
Customized lighting design = unique end result
Are you looking for unique and energy-efficient luminaires that fully fit into your building or interiors? We can develop them for you, together with a complete lighting study.
If you are interested in an overview of our products, download our catalogue here for more information and inspiration.
Do you have any questions about this project or do you want more information? Click here to contact us.
Products
– Rekta 65 light line
– Rekta 40 light line
– Rekta 30 SAPP light line
– Sferio Direct round luminaire
– Sferio Direct/Indirect standing luminaire
Project information
Project name: Claerhout Communicatiehuis
Location: Ghent, Belgium
Architect & Engineering: AIKO architecten en ingenieurs
Installer: Verstuyft
Photography: Studio Claerhout
Looking for inspiration?
Do you have questions? Would you like more information about our products?
Contact us