19 July 2021
Customized lighting for day-care centre THOR Familia
Customized lighting for day-care centres with a modern look? Our architectural luminaires for the THOR Familia childcare prove that playful and sleek go together perfectly.
The THOR Familia childcare can be found at the new Thor Park in Genk, a growing business and science park. We were contacted by installer E.L. systems for this project. The concept of the lighting for the day-care centre had already been determined, and they counted on us for the functional and technical specifications.
The requirements
The concept:
The lighting consisted of floating rectangular structures, suspended at different heights, but all interconnected.
Daylight control + control switches:
All luminaires had to be equipped with daylight sensors. The end customer wanted the lighting to dim automatically based on the incoming daylight. In addition, it had to be possible to control the lighting with switches as well.
Bright spaces:
The day-care centre mainly has light colours, especially the floor, walls, ceilings and cupboards. It was therefore necessary to take into account high reflection values.
Specific requirements for children:
In terms of EN standard, day-care centres fall in the same category as, for example, kindergartens. The caretakers wanted to be 100% sure that the lighting would not cause glare and that it would meet all standards perfectly.
The result
The floating rectangular structures consist of an extruded aluminium base, with our Nhua luminaires mounted in between. This base serves as an aesthetic cable duct and houses the daylight sensors. The various luminaires are connected to each other via this base.
The Nhua has a three-sided satin diffuser, which creates a soft light distribution. This feature improves the visual comfort for all children and supervisors in the day-care. Due to the many light colours in the room, we were still able to reach the required lumen output with fewer light units. This is certainly an advantage in terms of energy consumption.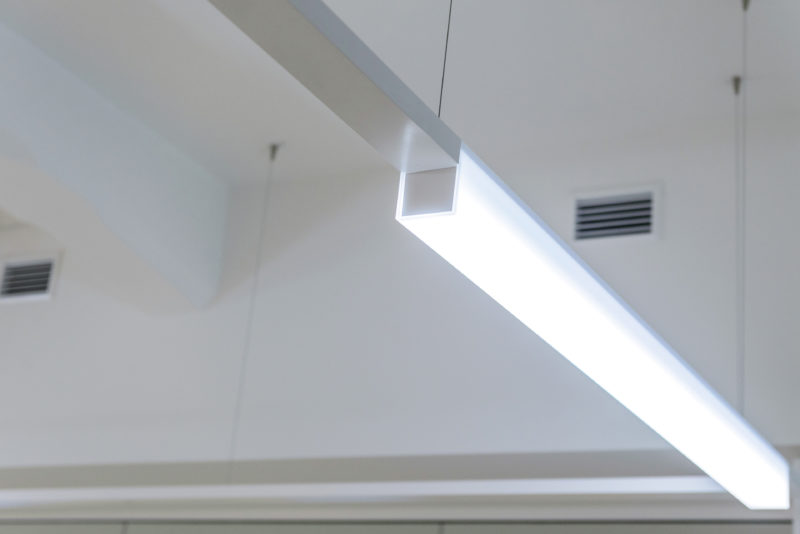 We provided DALI drivers and daylight sensors to enable both automatic daylight control and switch control. All luminaires – in the various rectangular structures – were connected to each other to coordinate their control.
The required EN standard was achieved, partly thanks to the dimmability of the lighting, the satin diffuser, the required light output and the high visual comfort. The supervisors of the day-care centre came by beforehand and they also fully approved our luminaires.
Thor Park
Thor Park can be found in and around the old mining building of Waterschei, in Genk. Startups as well as educational and research institutions are located here. You will also find other facilities such as restaurants and cafes, event venues and this day-care centre.
The Thor Park campus unites classic and modern architecture in a predominantly green environment.
Looking for inspiration?
Do you have questions? Would you like more information about our products?
Contact us