30 September 2021
Lighting and acoustics in one: an efficient solution?
Good acoustics are very important for an enjoyable experience in spaces where many people come together. You don't want all the noises and sounds to reverberate, but cosy muttering should be possible. The goal is a delicate balance, in which the placement of lighting fixtures can play a significant role.
Acoustics are sometimes forgotten in interior concepts and often only come into focus at the end of a project, when the problem becomes 'audible'. The installation of lighting typically also happens in the last phase of a construction process. Naturally, it would be ideal to have a product that combines both aspects.
As an example, we present you The Greenhouse restaurant, an addition to the NH Schiphol Amsterdam hotel, where events also take place. The glass house, which looks spectacular, created an unpleasant acoustic effect in the restaurant. Fortunately, this was well anticipated by the architect of the project, by calling on a lighting designer* who also paid attention to the acoustics.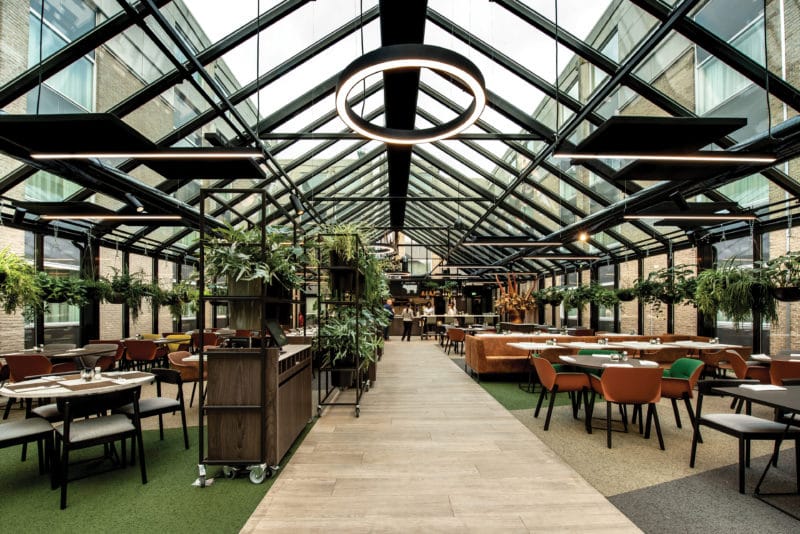 Effective solutions
Our acoustics products are perhaps less well-known, but that doesn't make them any less effective. We have 2 models:
– Atlantis – acoustic panels placed directly next to our profiles (5 cm thick) which are only available in a rectangular shape. The material, flocked basotect, is the best among the range of acoustic material.
– Plato – thinner panels with built-in light elements (2 cm thick). These panels are available in different shapes, which gives more design freedom. The differences in thickness, however, reduces the acoustic absorption.
Design versus sound absorption
The Atlantis is the best solution of the 2 products from an acoustic perspective, but in some cases a good balance has to be found between design and sound comfort, with the thinner Plato panels being a good alternative. In any case, we take into account all acoustic materials such as plants, the floor, carpets, etc. The 5cm thick panels were the best choice for the project in Amsterdam, because it involved a major acoustic problem.
We can also perfectly calculate how many acoustic panels are needed in a room, depending on the absorption curve and the lighting design. The Atlantis can be combined with most of the light profiles in our range, with or without counterweights depending on the positioning of the panels. In case of further acoustic problems, these panels can also be retrofitted to the luminaires or against the wall.
Our acoustic lighting is a very practical solution, that allows you to go for a specific design.
Do you want optimal acoustics in your building in addition to the perfect light? We can offer you optimal advice for both aspects. Let us know if you are interested in more information!
*Calling on a lighting designer is common practice in the Netherlands. This expert acts as a lighting consultant and also takes the acoustics into account. In Belgium, this specific function does not exist, but we take on this advisory role.
Looking for inspiration?
Do you have questions? Would you like more information about our products?
Contact us