3 March 2022
Customised office lighting for bakery Wouters
Bakery Wouters is a wholesaler for bread and pastries. For the construction of their new offices, their installer trusted us with the lighting design and custom-made luminaires.
Lighting study in function of the office
For the office lighting at Wouters' bakery, we took on both the role of the designer and the manufacturer. The customer wanted playful light lines in some specific shapes. This is best achieved with customised lighting. Our speciality. This is also how the installer found us for this project. He provided us with the briefing and all the necessary plans so that we could take care of the lighting study and the customisation. The installer took care of the entire implementation and came up with a way to mount our luminaires to the T-sections of the ceiling tiles.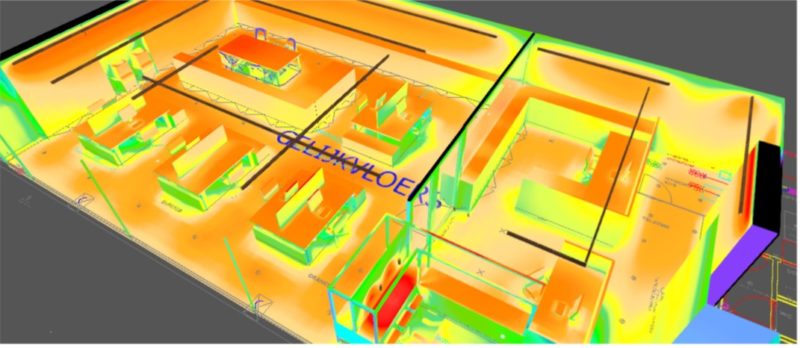 More design possibilities through customisation
The ceiling played a crucial role in the design. The customer wanted to have the light lines mounted to the axis of the ceiling tiles. There is no standard fixation for this, so we had to look for a good solution together with the installer. Fortunately, at Multiline we are not bound by standard dimensions. We can deliver fully customised luminaires. That also gives us more room to make a nice design. For example, we designed a light line in a cross, L-shape and square for bakery Wouters.
Extensive lighting study with 3D images for the installer
In addition to the floor plans, we also received the complete layout plan with the furniture and the interior colours. This enabled us to calculate the amount of light needed specifically for each work surface. For example, the black colour of the ceiling caused the reflection value to be lower, which meant that we had to increase the amount of light.
This additional information also enabled us to provide the installer with a very detailed 3D design. We always give an extensive briefing of our design, but a 3D image obviously says much more than just the figures in the lighting study. It also makes it easier for the installer to present the plans to their customer.
Rekta 40/70 luminaire
We used the Rekta 40/70 for the offices of bakery Wouters. This slim luminaire offers enough space for the drivers and the extra functionalities, namely emergency lighting and daylight and motion sensors. All the technical components are contained in the profile itself, which simplifies installation and maintenance.
Looking for inspiration?
Do you have questions? Would you like more information about our products?
Contact us